El árbol
Last updated: Mar 05, 2014
Employment project Carpentry Los Laureles
Foundation El Arbol supports an employment project. Carpentry Los Laureles, in Chinandega, is the workshop that is supporting all kinds of activities and is under supervision of the foundation. The core business of Los Laureles is the production of furniture for the local market.
The women of "Los Laureles" participated in the feminist congress of Latin America and the Caribbean, held in 1999 in the Dominican Republic and in 2003 in Costa Rica. The conference was funded by foundation "Mama Cash" and the "Global Fund for Women.
FromDenmarkcameinterested inproject "Los Laureles". Danish NGO Nepenthes gave through the Danish Government (Danida) support for a market research furnituremaking for women.

In total, over the years in the workshop trained over 150 women in technical skills.
Foundation "FairProfit" from Eindhoven support the woman of Los Laureles in 2004-2006 with financial aid for tools, infrastructure improvement and theconstruction of a professional wood-oven, powered by clean, green and free solar energy !

In 2012, the workshop manifactured with financial support of Rotary Club Chinandega 115 school chairs, 3 tables, 2 teachers and 2 cupboards desks for a nursery school in a poor district of Chinandega named ' El Limonal'.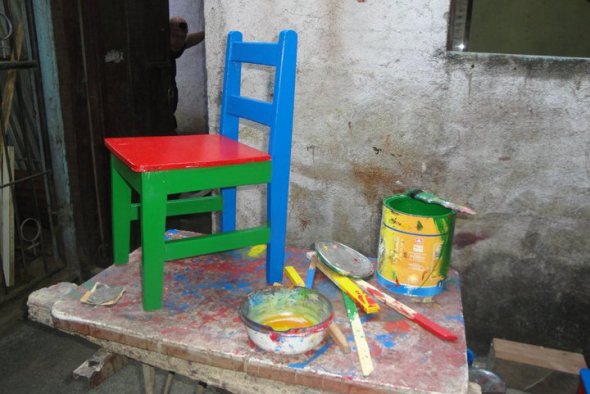 Melina wood is legaly cut in Nicaragua