El árbol
Last updated: Mar 14, 2019
Christmas Charity 22-23-28 December
Every year we have our special Christmas Charity, this year is very very special because the father of Saskia and also treasurekeeper of the foundation El Arbol, Louis van Vuuren is present in Nicaragua. He will help in the role of Santaclaus and giving presents, wooden toys to poor children on the countryside. The toys are made by our own employmentproject, furnitureshop Los Laureles.
This year we manufactured 81 ducks and helicoper toys for the children, gathered 291 bags with candy, 95 candybags
for disabled women and underfed children in Corinto and two piñatas !

The preschool were we started this year with giving wooden tools to the children, piñatas, sweets, drinks, the clown, with animals out of balloons and painting faces.Also an enviromental education story.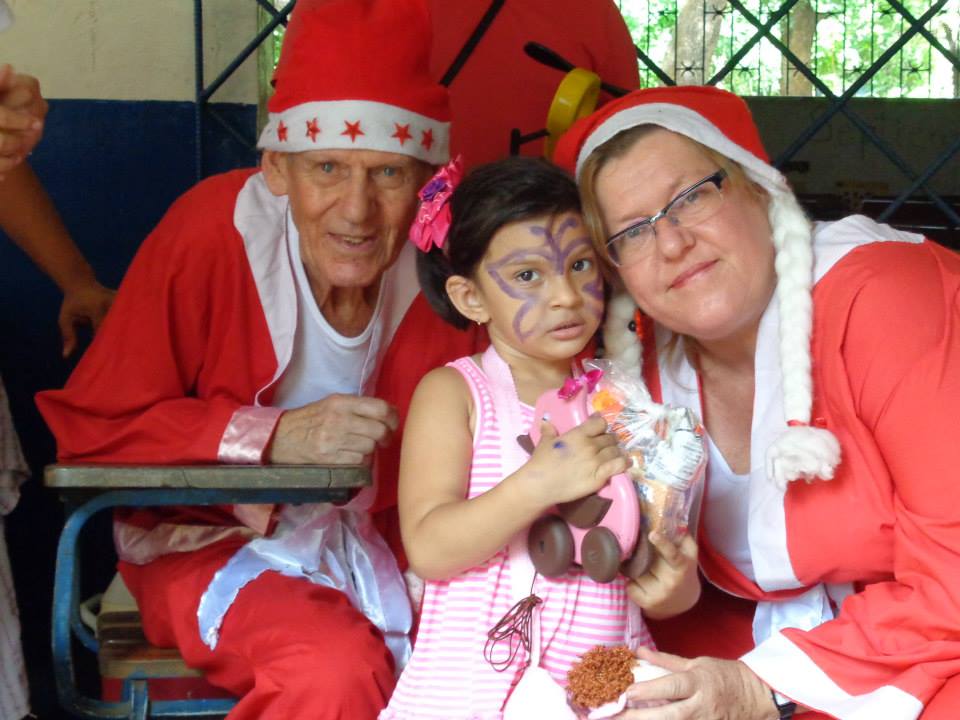 Today 23rd of december, second day of our christmas charity program this year. We went to Corinto, to the underfed children in Corinto, a project of Asociación Huellas Juveniles - Asohjuv.
The third day of our christmas activity was on the 28 of december together with the disabled women organization for a future without barriers. The two boys on the foto are deaf and liked their wooden airplane very much and played afterwards directly with them.
Down here you find links to some videos of the Christmas Charity....
2013-12-03
Master title

"Today i did succeed in defending my master title in rural education and development about the quality of enviromental education, at the secondary school of San Benito no. 1.
The teachers want to make a leaflet of the text of my tesis, as an example of how to elaboratte an environmental education project.
I scored 9.5 points, unbelieavable !
I am very happy that my fater could be present. the jury thanked him especially because he inspired me so much for nature during my life
He was invited by a teacher from the jury to come to her village and visit a house of empty plastic bottles she is creating."
26 november 2013

Presentation in San Benito No.1
My father Louis (80) is visiting Nicaragua.
Today we did give lessons my dad and I on the secundary school in San Benito No. 1 about the Second World War.
We told the students about the things that happened with our own family.
The students were very interested in the subject !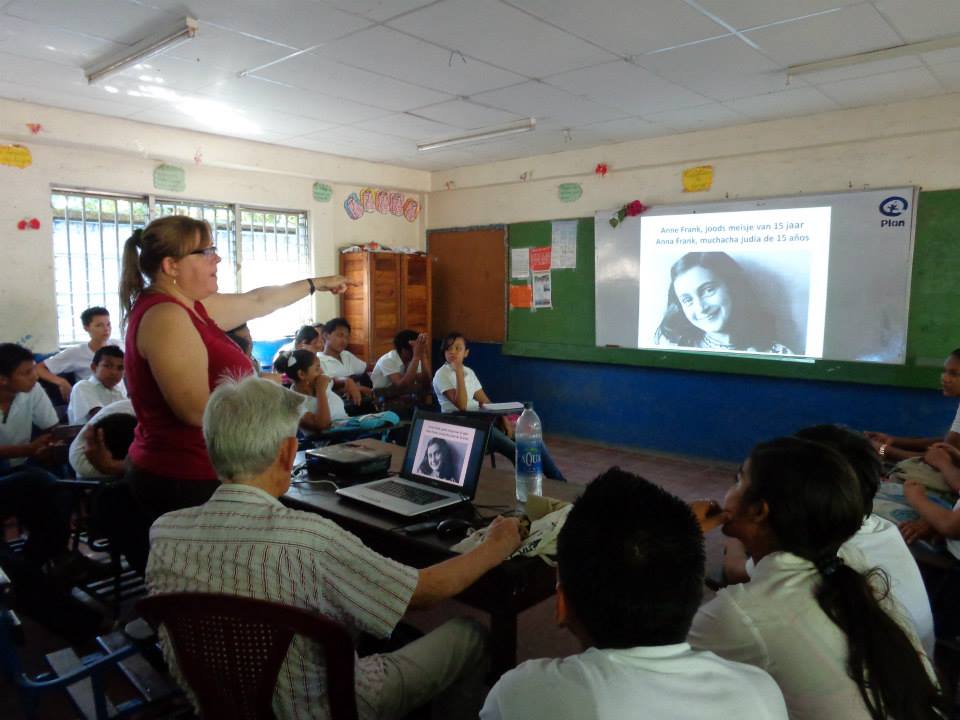 October 4 2013: world animal day.

Back to the Kariboe for another presentation.
Saskia, Louis (treasurer) and Peter (website) visited this school again in Heemskerk.

We prepared a special Endangered Animals in Nicaragua presentation and told the children about the beautiful animals that are endangered in Nicaragua ! The school is very interested in the work of the Foundation.
The children were very exited and interested, that was shown by asking very good and sometimes funny questions.
Thanks again, teachers of the Kariboe for giving us this wonderful opportunity to inform the children about our work and life in Nicaragua.
Saskia wrote a special El Arbol newsletter: the Kariboe Edition.
You can read it by clicking the PDF button below here;
that means... if you can read Dutch ;-)
September 24th 2013
Presenting at Kariboe Primary School in Heemskerk, the Netherlands
Today Saskia, Louis (treasurer) and Peter (website) visited primary school of Saskia's nephew Fedor in Heemskerk.

This school is a green school. they think of our environment, partially self generate electricity by solar panels on the roof,
they even have their own vegetable garden !
We prepared a presentation and told the children about Nicaragua, the people, the country, the nature and especially about the projects of our foundation and why helping is so needed and important.
The kids loved it and asked many questions to Saskia. A child asked, now that you're here in the Netherlands who does all the work in Nicaragua?
The school is very interested in the work of the Foundation. Saskia is invited to do other presentations in other classes and even next
4 October, the day of the Animals in Holland she will tell the children about the beautiful animals that are endangered in Nicaragua !
August 24 2013
Booklet for Saskia (finally)...
Last year, after the board meeting in August 2012 we got the idea to make a book
for Saskia, on the occasion of the 15th anniversary of the foundation.
First task was to get contributions from friends and acquaintances in the form of pictures and stories.

Then came the design-job 'was: layout, colors, font types etc etc.
When the book was finished early February 2013 we had to wait about 6 months
because Saskia would only come to the Netherlands in August for her annual visit.
I can tell you that it was hard to keep this secret for so long but eventually
came Saturday August 24 .....
Saskia was very surprised and delighted with the book! Not crazy because I myself was already extremely
impressed by the beautiful stories, experiences and sweet words of appreciation that everyone had
for our President ! I enjoyed and am proud that we have been able to make this special book for her.

Again, without your help, dear people, this would not have been possible.
So on behalf of Saskia, thank you very much and if you have the chance then you like Saskia
show you your own contribution.
Do you not have that opportunity and are interested then I can send you the digital contribution in the book.
http://www.mijnalbum.nl/Album=TBLDRGLH&Foto=HEA6YTUK&mct=facebook
Peter Kenninck.
July 24
office refurbishment El Arbol
The walls of our office in Nicaragua left by rainwater and that gave mold on the walls.
First the walls had to done twice with an antifungal paint. When that was done
we painted it again two times, now with regular beautiful orange acrylic paint.

The end result of the paint job looks great we think.
We are proud to have beautiful fresh orange walls in our office.

Below pictures of the situation before and after....what a difference indeed !


July 3
taller Los Laureles....
Furniture recently made by the workshop Los Laureles !

Beautifull peaces they are indeed...
June 5, 2013
Celebrating Children Day
Today we did cook for 45 malnourished children together with the Nicaraguan association
Huellas Juveniles to celebrate children day
May 8, 2013
We proudly present...
Below some pictures of recent handcrafted furnitures. These are all made by furnitureshop "Los Laureles",
the employment project of foundation El Arbol, already in function for more then 18 years.
Don't they look great ???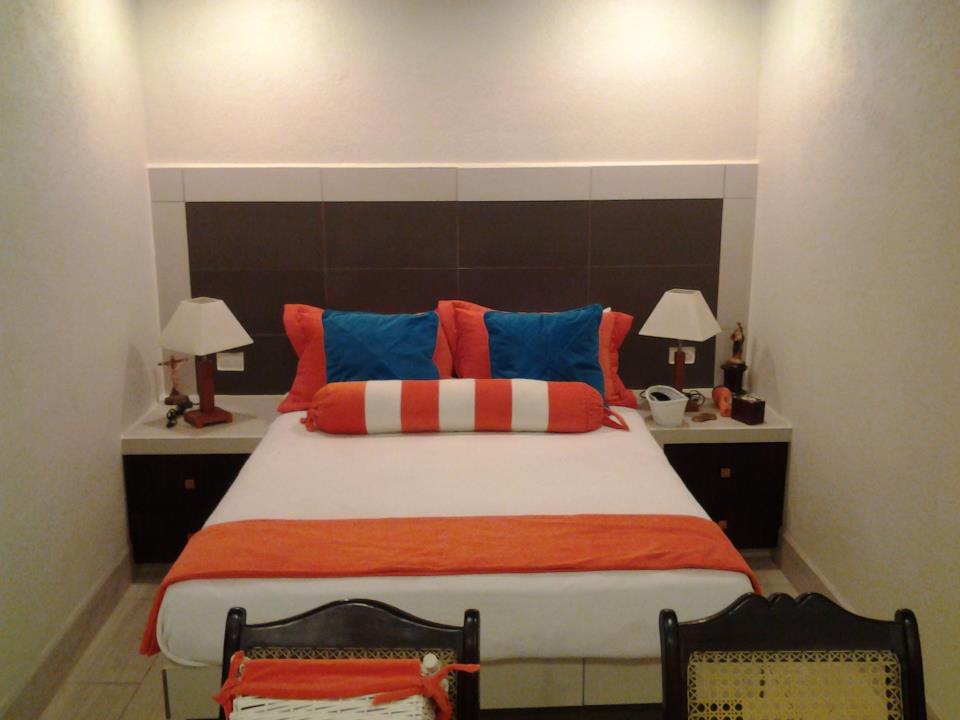 May 3, 2013
Enviromental education....

Yesterday Saskia gave enviromental education at the secundary school in San Benito Nº1
about the endagered reptile, amphibious and fish species in Nicaragua.
Several students came after the lesson on the endangered species in
Nicaragua to thank Saskia with a big hug and kiss!
April 22, 2013
Planting fruit trees
On the "international day of the Earth" we planted fruittrees on the primary school in El Limonal
and the secundary school in San Benito.
34 fruittrees in the El Limonal school and 12 trees in the San Benito school.
April 3, 2013
Help us ! D
onate money and enable us to organize our annual Christmas charity for poor children in rural Chinandega !
For more then 10 years, El Arbol Foundation has been able to sponsor this special Christmas charity.
In the villages around Chinandega our carpenter workshop produces Christmas toys.
For the boys a wooden train and for the girls a beautifully painted deer.
The Event is framed with clowns and there is also environment-lesson, in a game
we teach the children to take good care of forest and the animals.
We really need at least 500 EUROS!
Can you help us? Donate by clicking on our Home page button "Donate".
A PINK wooden reindeer toy for the girls costs 9USD a piece. For the boys we build wooden trucks,
costing 11 USD.
THANK YOU VERY MUCH FOR YOUR HELP!


28 january 2013:

New doors for Santa Eduviges
Our carpenterworkshop received and completed the order from Rotary Chinandega, with funding of rotary clubs of Texas (Thank You Thank You), to construct doors for the farmacy in elderlyhome Santa Eduviges in Corinto. Free consuls will be provided to the community of Corinto
16 January 2013 Cooking for the children of Corinto

antes de comer nos lavamos las manos
before we eat we wash our hands !
José Joaquien with oncle Julio
washing hands after eating !
26/27/28 December 2012

Nicaragua San Cristobal volcano: Hundreds told to leave
http://www.bbc.co.uk/news/world-latin-america-20848465
Nicaraguan authorities have ordered the evacuation of several hundred people living near San Cristobal volcano.
The eruptions were small, but it is impossible to know for certain whether there would be larger ones that could put the population at risk.
Families living in the area are urged to follow evacuation routes as a precaution.
San Cristobal, Nicaragua's highest volcano, is located about 135 km north-west of Managua.
It is considered the country's most active. It last erupted in September, killing some farm animals.
Pics of the shaft and gas clouds of the San Cristobal volcano, 1475 meters above sea level, the highest and most active volcano in Nicaragua, Chinandega lies at the foot of it. San Benito even closer!

Saskia: "We already have three days ashfall, everything is under a layer of gray ash, irritation of lungs, eyes and skin."
December 2012 : christmas toys
This year we did gave wooden toys and enviremental education to the children of the preschool in San Benito.
The kids started playing with the toys as soon as they got them...
November 2012 : shall we dance ?
Those twins from San Benito kindergarten where oundation El Arbol works.
They danced at our 15th anniversary in the Chinandega Chinandega,
the dance is called the cumbia:
oh ... beautiful girl from Chinandega, with you I want to dance,
We will dance, we will enjoy ....

Look at this great fun movie
October 2012

: Donation schoolmaterials

Last Monday, October 8th, we went to the countryside with all school materials, we have acquired as a foundation for the school in the village of San Benito No.1.
This we could do with donation funds from foundation 'Leo Bijl'; we are very grateful.

It is a school with over 800 leerlngen from various villages situated around a kindergarten, primary school and secondary school. In high school, we focus on environmental education.

There were 304 students only outdated book at their disposal in the library. Now have the students and the teachers several beautiful books. For example on the endangered species, which is near the village life of the volcanoes San Cristobal and Chonco.
The trees and shrubs of Nicaragua is a book published by the UNA agricultural university in Managua in 2012!
There are also two wall plates to the influence of man on climate change, water in nature and the solar system.


When you see how happy students and teachers with it and the enthusiasm they showed you would like to buy more books!
September 26, 2012

anniversary.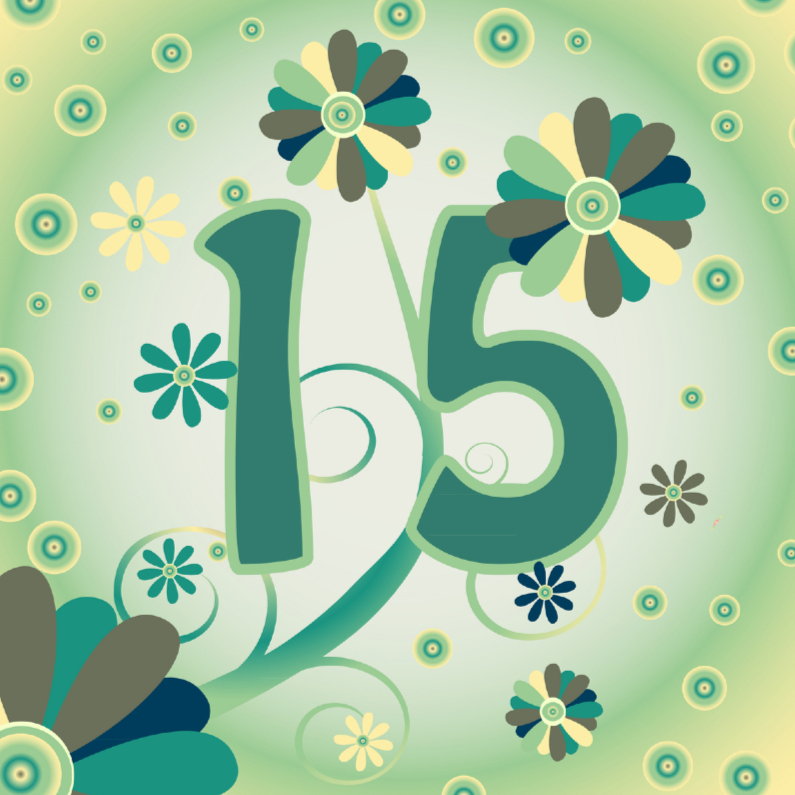 (email from Saskia)

Chinandega, 27 september 2012
Hi All,

Yesterday was a beautiful intimate celebration of the 15th anniversary of the foundation El Arbol, not so many isitors (about 50 I think), but that is because of the rainy season and mid-week during working hours.
It was a very diverse group: clients, project managers and people of the Town Hall.

The music played was classical: Schubert, Schuman, Handel, Mozart, Pachelbel and national music, Cumbia Chinandegana,
La Mora Limpia, (I do not remember everything), and modern style.

A 5 year old twins from the school in san benito No. 1 danced two dances, very touching, they're not following dancelessons said their mother; they just do it because they like it.

The whole wheat banana muffin was overwhelming, with fresh orange juice or Pitaya juice.

We have two tables and a box in the shape of a heart raffled in a lottery, which were made in the workshop.

Two times per houra car in the city was driving around advertising the workshop and the foundation.

There was a banner across the street at the front of the workshop with the text: workshop congratulates the Foundation on her fifteenth birthday.

With our new purchased beamer, i presented a powerpoint with an overview of all projects and the history of the foundation

We also printed photos and two large picture boards made about the work we do.
At the entrance we had a guestbook, business cards and advertisements of the workshop.
'Like Us' on facebook, we post updates there frequently.

El Arbol has an E-mail list for people who want to read the latest newsletter.
The E-mail list is free and is only meant to be informative.

If you want to be on the E-mail list you can ask us (fill in the contact-form) at any moment.
10 september 2012
Last weekend the vulcano cristobal exploted ashes and gas. It is the place where we are doing our reforestation, that became very actual now...