El árbol
Last updated: Feb 19, 2015
February 25, 2014: interview El Limonal
Today i filmed two schoolgirls, 9 and 10 years old at primary school "Ojo de Agua" in township El Limonal, Chinandega. This is very close to the garbage Dump. I talked with tham about the environment and the nursery of trees at their school. This is to raise funds for the project. Currently we work with a school in Heemskerk, the Netherlands. This is a so called "Green" school !
February 6, 2014, cooking in Corinto
Today we did cook with solarcookers food for the malnourished children in Corinto,
rice, vegetable/soy stew, tortilla and oatmealdrink.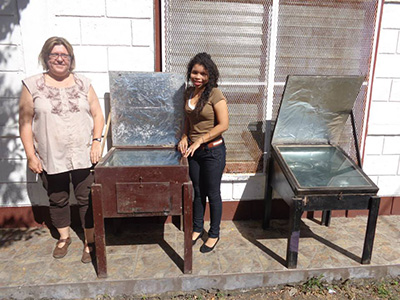 We bought food from the 6.5 dollars 'change' Marlinda Dibbeling donated recently and we still had 1,5 dollar
left from last cookingdonation.
We were able to help the kids again, isn't that wonderfull ?


February 5, 2014, compressor donated
Today we donated a compressor to our employment project Los Laureles so we can paint furniture.
Thanks to the gift of Saamhorigheidsfonds Heemstede, Holland.


18 march 2014: new tool for workshop
A donation of a angle grinder by foundation El Arbol with money from Saamhorigheidsgroep Heemstede
to our workshop Los Laureles.
March 18-20: presenting at Kariboe interview El Limonal
"Today, March 18, went toi group 5 of the Kariboeschool been with Louis and told the children about Nicaragua, endangered animals and the work we do.
Special attention was given to the school at the garbage dump in El Limonal that we want to help with planting new trees.
That's good for cleaner air, nutritious and delicious fruit from the trees in a few years. Also very good to fight erosion in this area, that is located between the landfill and the cemetery and close to active volcano San Cristobal!
Tomorrow, Thursday, we are going to presentagain in 8th grade! And lets hope that the children of t Kariboeschool are able to think of ways to collect some funds.."
Peter.
Below the 'action banners I designed.
12 may: fundraising results of the Kariboe school
We have been 4 times at the Kariboe-school and presented our work to several groups of children about the
work of the Foundation El Arbol. This primary school is a "green" school that gives extra attention to the environment.
21 may: Funding granted by Rabobank Share4More
Today there was great news!
The application that we applied at Rabobank Velsen is honored.
The application concerns the creation of a botanishe educational garden in the village of San Benito N º 1.
We get the required 8,000 euros, so we can start the project. It is a mandatory we contribute a small amount to the budget ourselves as foundation. For this we allocate the donation we received by foundation "Fair Share".

Next thing is looking for a piece of land in San Benito, to be able to start with the garden.
june 19: new trees Corinto
Today saskia went planting 38 trees in Corinto on three public schools with the association Huellas Juveniles
and ofcourse the students helped ! Good job...
june 16: new trees Corinto
Today we did buy 38 trees to plant tomorrow on schools in Corinto with the
Asociación Huellas Juveniles - ASOHJUV.
Mandarin, orange , lemon, flor de sacuanjoche and madroño are we going
to plant with the schoolchildren in Corinto tomorrow.



june 1: international day of the child
Today we did celebrate the internacional day of the child together with Foundation "Fuente de vida" by telling a story
to the children about how plastic waste travels to the sea.


the children made some beautiful drawings, we had a clown and naturally we played "piñata".
May 30: balls for schoolchildren

Today, El Arbol Foundation donated 3 soccerballs, three indoor soccerballs, 1 basketball, and 1 volleyball
to the san benito N º 1 school.
Sport is fun for kids and especially with a ball it is even more fun. Besides, its good for health
and also important for proper social development!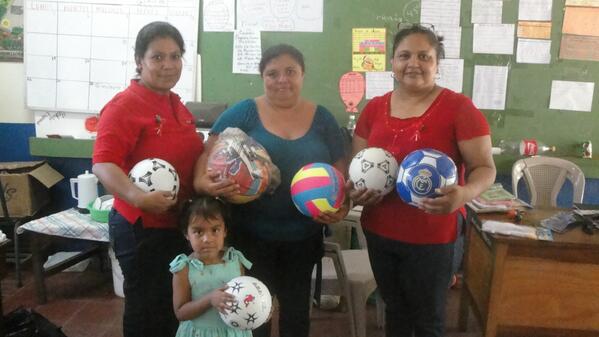 july 15: Botanic gardens Utrecht
In our search for information, experiences and making a red to be able to start on a good base with our new project: a Botanical educational garden in san benito Nº 1 . It was an inspirational day and the gardens were wonderful. We also met people (staff) that offered us their support....GREAT !
july 5: annual boardmeeting
We had a very good anual boardmeeting 2014. In beachclub "Het Strandhuis" in Wijk aan Zee we discussed a lot of sustainable options for our projects.
Saskia, Louis, Annelies, Marijke and Peter were present. Some presents were exchanged.
july 4: visiting OBS de Kariboe
Saskia arrived in the Netherlands. Together with her father Louis she visited the school where the foundation performed an education project together with a fundraise.
The pupils of the Kariboe were interested in what we are going to do with the money they did raise for Nicaragua
August 12: Botanic garden VU Amsterdam
In our continued search for information, experience and most important because we really LIKE it we went to Amsterdam South, to visit the Hortus of the VU University. We first biked between the heavy showers from Heemskerk to Uitgeest, there we took the train to Sloterdijk and because Saskia was already exhausted (Peter is way too fast for her..) we had a break at Starbucks :-)
At the clock of 11 we arrived at the hortus and what a wonderful experience it was ! A wonderfull collection of "Bonsai" and cactus of all kinds. We had a great time in nature indeed.
Saskia asked someone from the hortus staff for information and this is how we met mister Hans Vissers. He was very kind and give us a lot of possible contacts to help us on our path to the new garden in Nicaragua...
">
November: Visit of kathy Hunt member of rotary club metroport
From 10 to 16 of november 2014 Kathy Hunt member of rotary club metroport and her husband Patrick did visit Chinandega and we could do so much for the community.
We helped building a bridge for the villagers of Agustin Santa Maria, visited the feedingcenter that we build in 2010 in El Limonal and repaired the benches and kitchen stoves.
We cooked for 265 children in EL Limonal and again for 390 children at the school in Belen. We painted the faces of the children and a clown for extra fun and he also taught the children about washing hands is very important. Further we visited some special projects, donated books and presents and a wonderfull karaoke-night !
Full album (wonderful pictures) can be seen on our facebook page........
">
22 December: Historical day, purchase for Botanical Educational Garden
An " historic " day for the foundation today. We purchased 8 cubes of land at the El Limonal school for the construction of our own botanical school garden and a classroom for education.

Entries in the cataster comes only in January, because that is now closed for their passages Christmas recess . We get the official land titles in February, but may now start to work on it.
We also get the district commitee two pieces gift that was actually intended for a police station and health center.
We are still negotiating an additional piece of land to have a very square piece for the garden. This will be answered soon.
Total it is about 2000 square meters !

Many thanks we owe to Flora Moreira, director of the El Limonal school. She has done an excellent negotiation and made this purchase possible. I also thank Douglas Javier Gomez Navarrete, who has helped me tremendously .

Lots of love,
Saskia
december - 6 january: Christmas Activity 2014
The last days of december and start of 2015 we finished our work on the 22 chairs we will donate to children of the pre school in Rancho Liliam. Douglas and Saskia did the job of cutting, sawing, putting the pieces of wood together and painting...
We will hand them out soon !!!